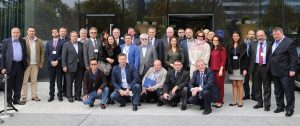 12th INTERNATIONAL CONFERENCE «TERRORISM AND ELECTRONIC MEDIA»
18 – 21 October 2016, Serbia
The Twelfth International Conference "Terrorism and Electronic Media" has taken place in Belgrade (Serbia) on October 18-21, 2016. The Conference was organized by the International Academy of Television and Radio (IATR) supported by the Federal Agency on Press and Mass Communications.
The key goal of the Conference was to attract attention of the world media community and interested national, state and public organizations to problems of combatting international terrorism through mass media.
The Conference hosted over 90 journalists and experts from over 15 countries as well as representatives of international organizations like CSTO, UN, OSCE and Council of Europe.
This year the Conference participants discussed burning issues like role of mass media in covering acts of terror using examples of Europe, Middle East and Syria; responsibility of journalists in fighting propaganda of hatred and violence; social networks as communication environment for distributing terrorist views etc.
The discussions were held at plenary sessions, round tables and topical TV and documentary screenings.
New initiatives and proposals were put forward by Nikolay Bordiuzha (CSTO general secretary), Ashot Dzhazoyan (secretary of the RF Union of Journalists, chairman of the Mediacongress "the Commonwealth of Journalists"), Sergey Gryzunov (professor of Chair of International Journalism, MGIMO) and journalists and experts from France, Serbia, Spain, Greece, Jordan, Belgium, Cyprus, China etc.
Following the discussions' results the Conference participants approved of the Final document draft, that generalized the results of the Conference and took note of new initiatives. The document is open for comments and additions till November 21, 2016.  The Document final version will be sent to international mass media and national and international organizations.
The Conference general partner on information safety is Kaspersky Laboratory.
                                                                                  Partners
                                                                    Information Partners